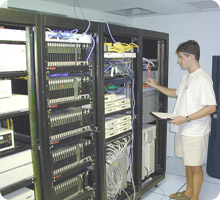 Web Hosting for your web site

If you need a reliable, safe and fast web host with access to the latest web technologies...then you are at the right place. UserWorld hosting has everything you need to run a full service web site. From programming tools such as PHP (3 and 4), ASP, Java (servlets), Mod_Perl, CGI and more. Click here for information on our accounts.


| | |
| --- | --- |
| | Tutorials to keep you and your site on top |
As you build and maintain your web site it, is necessary to keep learning. You will surely have bigger and better ideas for your site. That's why we created our online OPEN SANDBOX. The OPEN SANDBOX is a place to learn programming skills, create web wonders, and communicate with others like you. Click here to step into the OPEN SANDBOX.



| | |
| --- | --- |
| | Tools to help you get the job done |
Using CodeRunner, our proprietary online coding editor, you can develop anything possible on the web. With CodeRunner you can create using the latest Web Programming technologies including HTML, XML, PERL, JAVA, Servlets, PHP 3 and PHP 4, ASP and MySQL; All online without purchasing or downloading any extra software. Click here to try out CodeRunner.